US Women's Education Partnership: Project One
Technical Education: One of our signature projects is Kimu Health Clinic, near Juba, South Sudan. Silas Jojo, a long time friend of the Women's Education Partnership, is developing a health partnership with his local community. The clinic supports work among displaced and refugee women and we support the clinic. Now with help from WEP and a donation of equipment, Silas is seeking to train medical assistants in basic skills, women from the community who will help. We will pay for their training when funds allow.
US Women's Education Partnership: Project Two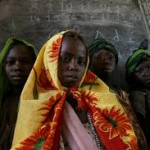 Undergraduate Scholarships: WEP is currently supporting 8 undergraduate women students at Juba University in South Sudan and 88 women scholars in Khartoum, Sudan, at Ahfad University. The majority of the scholars are from the Nuba Mountains or Darfur. At Ahfad University our scholars are studying, science, community development and administration.
US Women's Education Partnership: Project Three
Adult Literacy: In partnership with our sister charity, Women's Education Partnership in the UK, we are supporting our friends at Kimu in Juba in a new women's literacy project.  Classrooms are being built at the Kimu Clinic with the support of the local community. Despite the poverty and economic problems they confront, the community plan to finish this part of the project by the end of July.  Textbooks have been bought and two teachers appointed.  60 women have already enrolled to start their studies, which will be in English.